Access Your Email
via Microsoft® Outlook®
You will need to configure your mail program to log into our mail servers. We have described below how to setup Microsoft Outlook to access and send your mail. The discussion below should also be useful for other mail software, as most mail programs require basically the same information.
New Hosting Clients and New Domains: Please note that although your account exists on our server you won't be able to receive email at you@yourdomain.com until InterNIC has finished processing your domain name registration or modification or name server information. This is only applies to new accounts or new domains.
Microsoft Outlook Email Software
When you add a new email account to Outlook, you will need to add the following details.
| | | |
| --- | --- | --- |
| Display Name | = | Your Actual Name |
| Email Address | = | you@yourdomain.com |
| My Incoming Mail is a | = | POP3 |
| Incoming Mail | = | mail.yourdomain.com |
| Outgoing Mail | = | mail.yourdomain.com |
| Account Name | = | you@yourdomain.com |
| Password | = | your password for this email address |
After your POP3 account is setup by adding a new mail account, you can view the properties of the mail account and check to ensure the fields are filled out correctly as show below. By completing all the fields, your emails will appear more professional to your clients.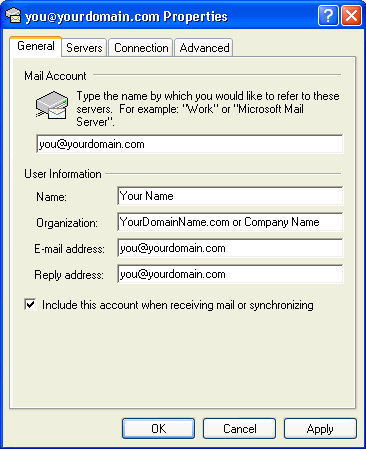 Mail Account: Type your full POP account name (for example, you@yourdomain.com).
Name: Type your real name or your email address. It is included in the From field of all your outgoing messages.
Organization: Type your domain name or business name. Can be left blank.
E-mail address: Type your full POP account name.
Reply address: Type your full POP account name.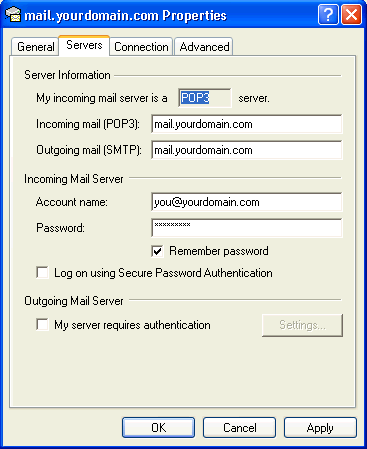 My incoming mail server is a: POP3
Incoming mail (POP3): Type mail.yourdomain.com
Outgoing mail (SMTP): Type mail.yourdomain.com
Is your Internet Service Provider one of the following?
Earthlink? Then use mail.earthlink.net for outgoing mail server.
MindSpring? Then use mail.mindspring.com for outgoing mail server.
Account name: Type the account name (which is the name of the account such as webmaster, billy, billing, etc.) followed by @yourdomain.com
Password: Type the password for this POP3 account.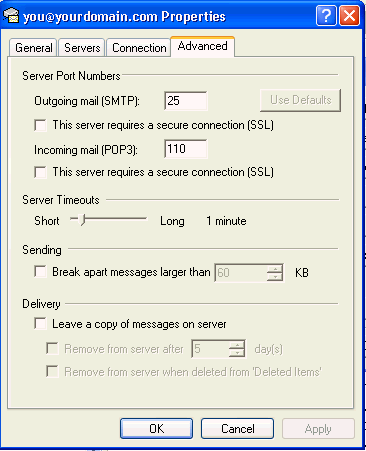 The above are the common settings for the Advanced Properties. In order to maximize the efficiency of the server and keep your website performing as fast as possible, you should NOT have a check mark in "Leave a copy of messages on server."
For further information about Microsoft Outlook, please consult the Microsoft Outlook Help.